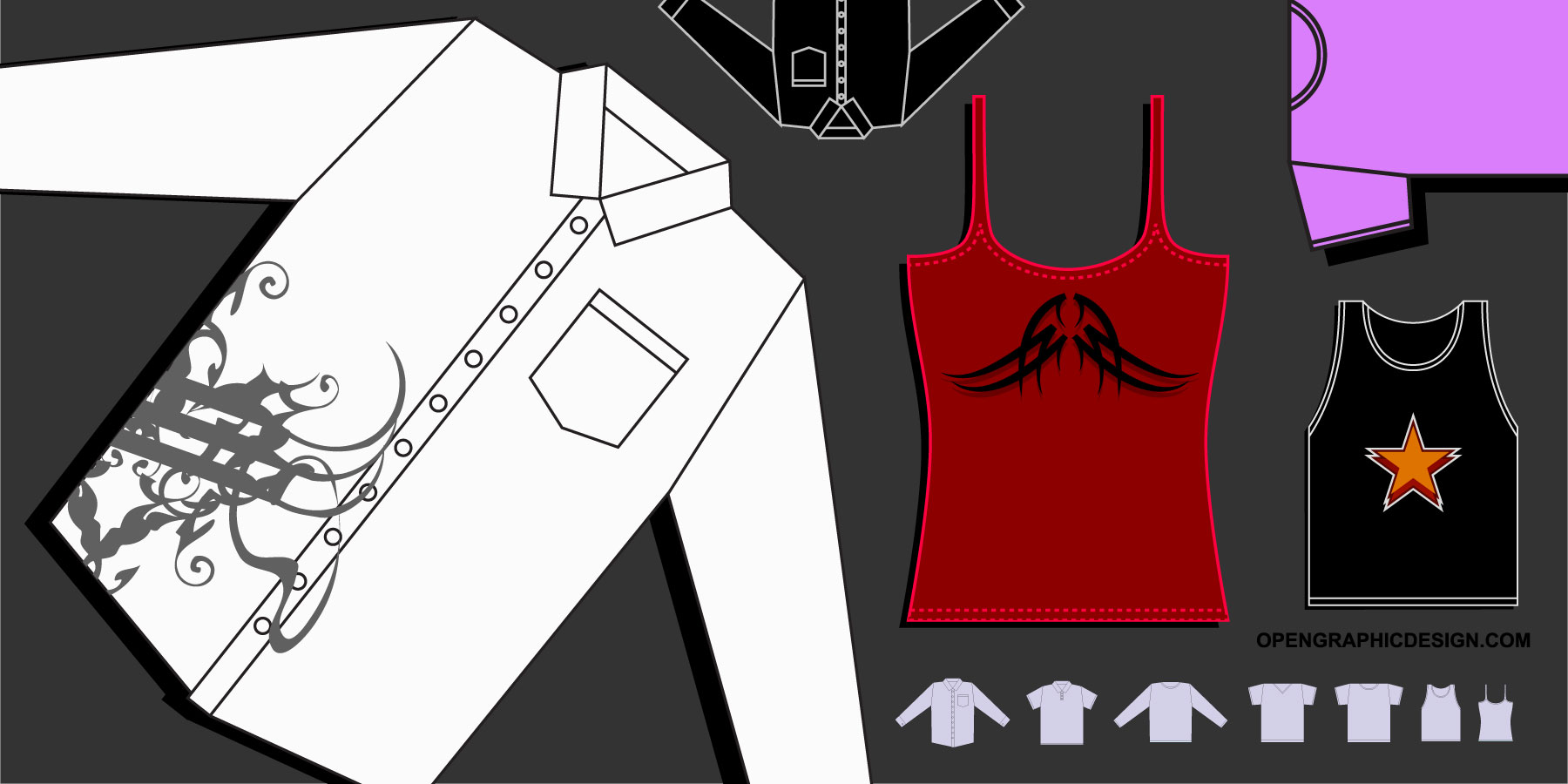 As a graphic designer you will eventually have the opportunity to design some T-shirt art work for a client.  Whether its a local band that needs some T-shirts and merchandise, a local charity event, or a long term contract job, you need to present your artwork concepts in a way that is coherent and impactful.  This set of shirt templates consists of Polos, T-shirts, Tank Tops, V-Necks, Spaghetti Straps and Long Sleeves. Place your art on these templates and impress your clients today.
This set of t-shirt vector graphics contain a variety of styles and designs. These graphics will be very helpful when creating a mock-up for your client as it is oftennecessary to preview this type of artwork on screen before sending it off to press. Placing your logo, artwork or design on top of a clothing graphic will help you determine the correct size and dimensions before going to print. This can  save you a lot of money in silk-screen printing costs, and will help you choose the right color and style for your article of clothing.
If you're in the business of designing and selling tshirts for profit, these t-shirt templates will come in handy as you create articles of clothing for styles that expand beyond your basic tshirt. This set includes:
long-sleeve button / collar dress shirt
short-sleeve polo shirt
long-sleve shirt / sweatshirt
short sleeve v-neck t-shirt
crew neck t-shirt
woman's tshirt / blouse
athletic sports / basketball jersey / BBD
spaghetti strap woman's tang top
Download this set and see how these vector graphics were created. Easily change the color of the t-shirts and the outlines. Reverse the colors when using a dark color for the shirts, and add some dotted lines for as a special effect.
Where did the logos come from?
Star logo first appeared on the Propaganda Graphics, Tribal Art was part of Tribal Art 1 and Tribal art 3