Designing a great logo is no easy task. There is a lot of upfront research, communication and sketches and that need to take place before a first set of logos are created. One good place to start the process of logo creation is to look at other logos for ideas in concept, style and design.  Continuing with our popular Logo Ideas series, we have created a new set of basic logos which highlight various current styles and trends.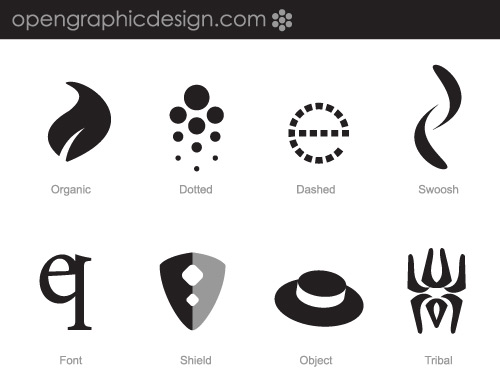 In order to create a good logo it is recommended to begin with a very basic concept and continue to make variations until a final idea is set ( see how basic design elements can be created). The first logo created is usually not the best one, so I highly recommend creating as many logos as time allows, and revisiting those ideas frequently. Part of the initial logo creation should be looking at other logos for ideas and variations in design styles. One good tip when designing a logo is scalability – your logo might be recognizable on a business card, but if you want your logo to work on smaller promotional items, like pens, it needs to look good very small. You can also create different versions of your logo, specially if your logo will be used on the web; you want your logo to fit well on small places, like a favicon.
Download and dissect this new set of logos, all in vector format. This set contains very basic ideas for logos: organic, dotted, dashed, swoosh, font, shield, object and tribal.
Download Logo Ideas
Adobe Illustrator (.ai)
EPS vector (.EPS)
Scalable Vector Graphic (SVG vector)
Thumbnail (.jpg)
For more logo ideas checkout out:
Logo Ideas Part 1
Basic design elements