Go Green with a new set of ecological icons. Use these green icons on your next enviornmental-friendly designs and help promote cleaner eco system. Included in this set are the recycling icon, energy-efficient icons, CFL icons, light bulbs, vehicles and plants. Become friendly to our environment, while creating cleaner designs. These icons are perfect for any print material as well as web content. Vector designs allow you to easily modify the colors and expand graphics without loosing any quality. Quickly modify effects of these green icons to suit your needs. If you don't like the glossy reflections or light drop shadow, easily remove them without loosing any quality. Change the colors of these icons to other shades of greens and create your own set of eco-friendly icons.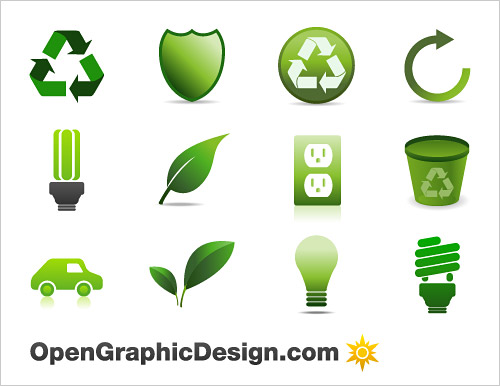 Download Green Icons
– includes illustrator (.ai)
– photoshop (.psd)
– vector eps (.eps)
– thumbnail (.jpg)
All graphics are free for commercial and non-commercial use. No attribution required.
If you like these Eco green graphics, you will also like:
Organic Green Eco Vector Pack
Share this post: