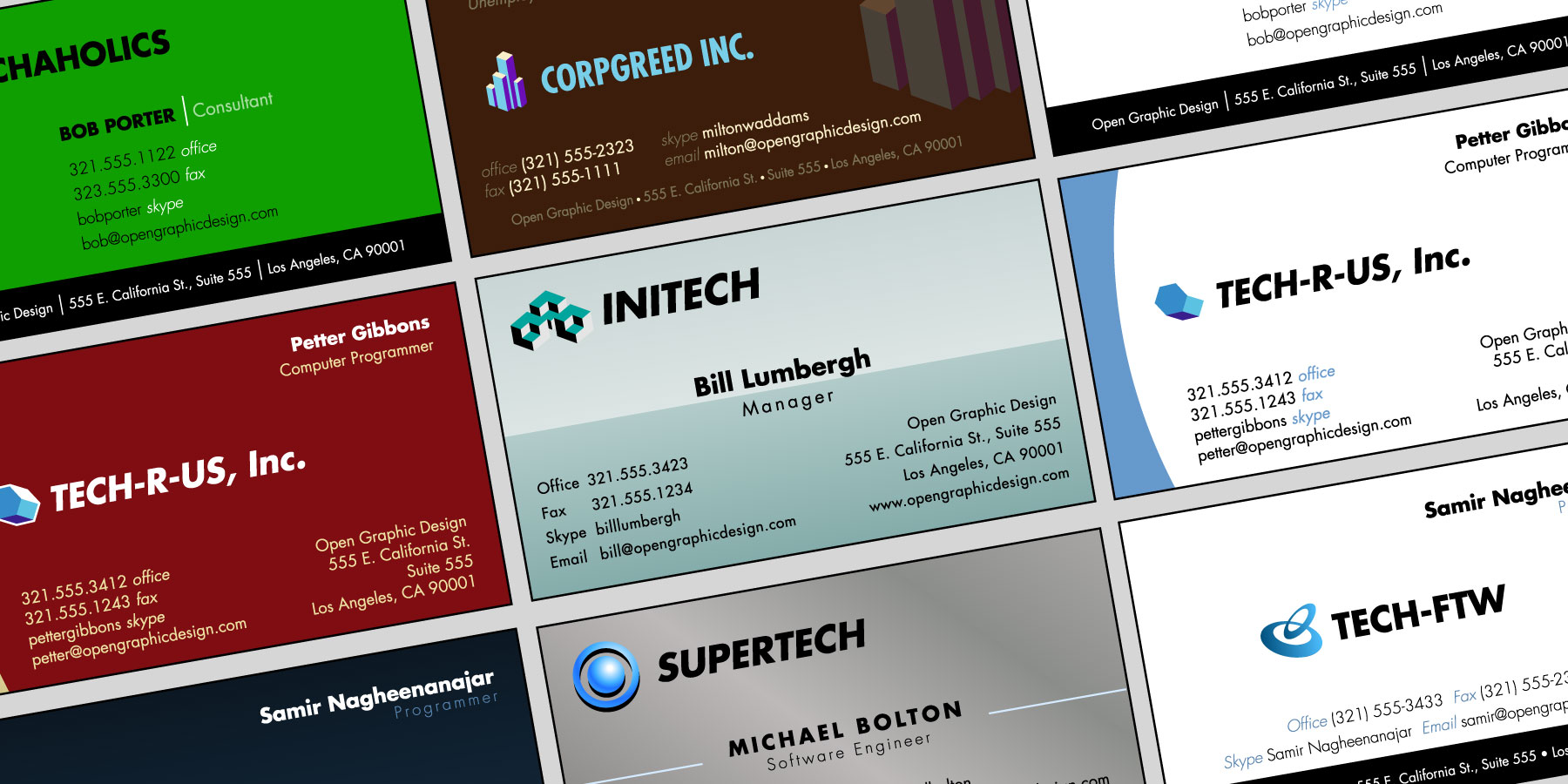 Did you ever want to create your own business card design, or play with some business card design ideas and see what you come up with? Well, here are some sample business card templates for you to play with and test on your own.  This design set was created using Adobe Illustrator, using only vector drawings.  Business cards are an essential way to communicate with your prospective clients what you and your company are about. Without a business card many contacts you meet for the first time will not take you or your work seriously. A business card is essentially the most basic element needed when presenting yourself to future clients.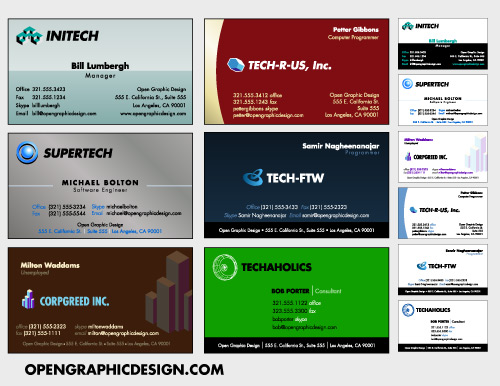 Since graphic designers are often unhappy with a design after a short time, I recommend you try variations and print a short run on press. Getting some business cards out and printed sooner is better than waiting around until you have the 'perfect' design.  On the other hand, if you're designing for a large company or firm, I recommend taking as much time needed to get a really good business card designed. Company's business cards, specially companies with a large number of employees, don't often change layout or designs because it is not cost effective and can be bad for branding.
As a graphic designer I often create mock-ups and layout ideas for business cards that never get printed. Worst, at times projects get abandoned and these designs just get archived and never see the light of day. During the initial design process I tend to create many variations for a business card design, and as the second and third revisions take place, fewer and minor variations occur.
I decided it would be great to share some of the initial design ideas with everyone for various reasons
Beginner designers might be able to use them and help them come up with better designs
Design concepts go through transitions. These designs I've created may not apply a few years from now. Why not share them now?
It may help some designers see how other designers work and put together their artwork. (note the small details in bullets, line separators, font sizes, etc)
Getting designs ideas out there will help me become a better designer and continuously improve my skills
Download this set and I hope you enjoy the free business card graphics. With so many low cost printing companies available, there should be no reason for you to have a nice set of business cards. My personal favorites are cards that are unique in design, cut and material.
Where did the logos come from? Check out these High-tech vector 3d Graphics
You will also like Free Business Card Ideas Part 1