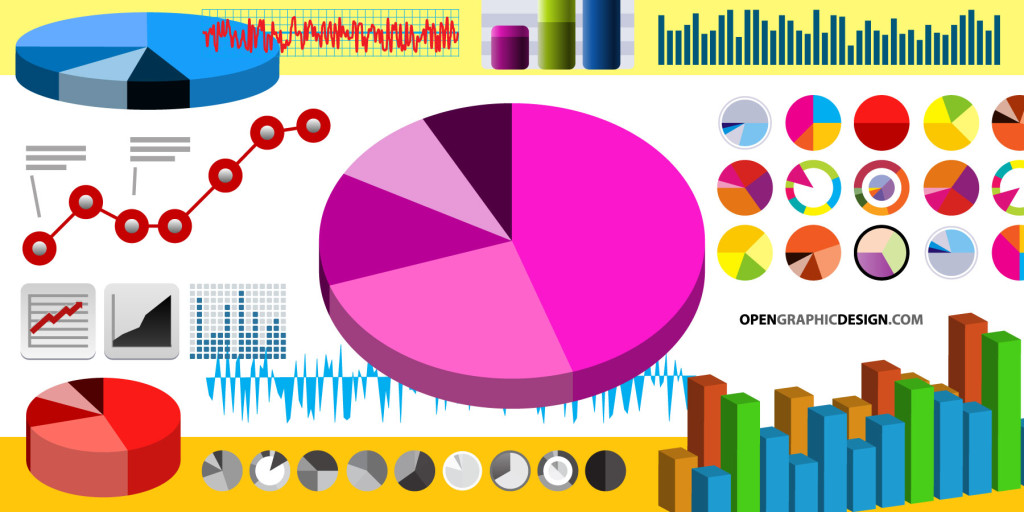 It is often very useful to show graphs and charts in order to give a visual representation of data. Graphs can be extremely useful for providing a quick glimpse into patterns, trends and future outcomes. Information can be easier analyzed when data is plotted into charts, such as pie graphs or bar charts. The purpose for this set is to provide ideas on how data can be represented as often times we don't have enough numbers or data for creating graphs, but would like to show clients a sample of possible future outcomes.
This set of charts and graphs is purely for representation, as there are no exact numbers or real data that is being displayed. While real line graphs can be created using excel spreadsheets, sometimes we just need a quick chart to use as clip art.
This set contains various colorful charts in vector format. Some samples include pie graphs, bar graphs, circle graphs, line charts, and other statistical graphs. If you're collecting visitor information on your website, you have probably seen various analytic graphs used. The vector graphics in this set can be used to represent:
financial figures
traffic uptrends
stock charts
calorie charts
conversion charts
business growth
data reports
investment numbers
and calculations.
With various options in charting numbers, you can easily plan and create your own 3d vector graphs. Download this set and create your own set of vector diagrams.
Download Free Charts and Graphs
Illustrator vector file with all templates (.ai)
Vector EPS (.eps)
Scalable Vector Graphic (SVG vector)
Thumbnail preview (.jpg)
If you like this set and want to learn how these graphics were made, see our tutorial: Charts and Graphs in vector – How To