December 30th, 2008 | Posted in Print, Web
Need some inspiration or just some new graphical objects to add to your web design? Use these design elements to create a more complex and interesting composition. Use these icons and symbols as ideas for your next logo or website theme. All of these design elements were created with basic shapes and gradually modified to create more intricate designs. The idea for this set was to provide some insight on how design elements were derived from basic concepts. Instead of providing a tutorial on how to create one object I thought it would be more beneficial to show simple steps from creating a basic shape to a more elaborate design.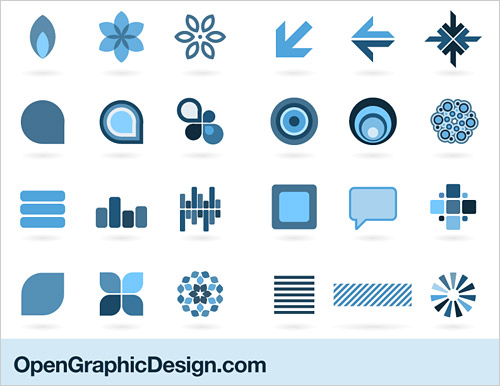 Note the use of color variations, 90-degree rotations and mirror reflections -all using basic mathematical shapes such as circles, squares, rounded  rectangles and oval elements. All of these graphics should be used just as a starting point for your own creations.  Please do not use any of these objects as your primary logo as these are public graphics and other people will have access to them as well. Download this set and see how these graphics were created and use your own imagination and talent to create a unique concept.
Need more ideas? check out:
* logo ideas (part 1)
* logo ideas (part 2)
* Colorful Dingbats
* Icons and Symbols