Need some free vector gears for your next techie design, or simply want to learn how gears are created in vector format? Download and study this file and see how easily gears can be created in line art. These various gears can be scaled, rotated and modified quickly to create your own set of gears. These graphics will fit perfectly for any design involving machinery, industrial designs, metal design, watches, or wheels. Symbolically, gears can represent motion, teamwork and technology.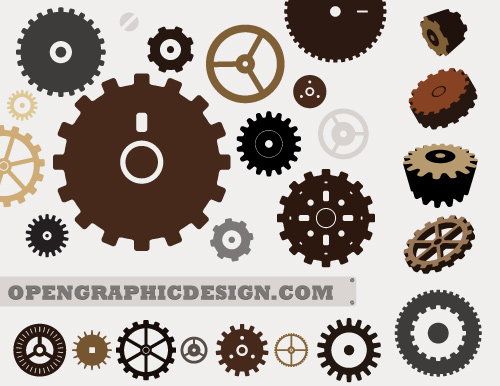 Included in this set of gears are variations and different styles of wheels, from the very simple machine gear to the smallest clock-style gear. To give you more creative ideas, I've included 3d versions of gears along with repeating designs in various sizes and colors. Gears can serve as good icons, symbols and illustrative metaphors for cooperation, connection, exchange, workforce, and invention. Gears serve really well as background elements in high-tech designs and industrial/propaganda graphics. Creating gears can be as simple as drawing circles and repeating objects (teeth) along the circles. Download this set and see if you can re-create these vector designs using your own style and concept.
Download Free Vector Gears
Illustrator Vector File (.ai)
Vector EPS (.eps)
Scalable Vector Graphic (SVG vector)
Thumbnail preview (.jpg)
All graphics are free for commercial and non-commercial use. No attribution required.
---
View other High Tech Graphics