Here is a simple and clean vector sunset background with some birds and a boat, ready to use as concept art, wallpaper on your computer, a t-shirt transfer, or simply print and frame like art.  After applying some text to these beach-themed graphics you can easily print and use it as a nice gift for the boat enthusiasts or surfers alike.  You never know when you will need some clouds and seascape to use on a concept you're working on, or a sunny background for a website. Download this set and dissect it to create your own composition.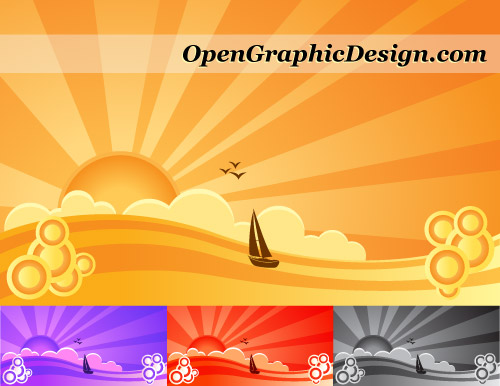 Included in this set are four variations of beach vector graphics, using different colors and gradients. You can easily open this file with a program such as Adobe Illustrator or Inkscape, and modify the gradient colors. Elements in this illustration include a sun burst with sun rays, ocean waves, clouds appearing from the horizon, a flock of birds, a sail boat and decorative circle elements.
This vector wallpaper can be applied for various occasions:
Beach-theme greeting cards or invitations
Tropical computer desktop background
background for business cards or thank you notes
Sunrise landscape for screensaver
kid's birthday party invitations and more
Download the set and analyze how vector illustrations are created. Use your own ideas and vector illustrations to create a unique composition.
Need more wallpapers? check out High Resolution Vector Wallpapers and Desktop Wallpapers